Are Facebook, YouTube, And Other Social Networking Sites Becoming The Censors Of Artistic Taste?
It is a debate that seems to have been running since the dawn of time and shows no sign of letting up anytime soon. When does art cease to be art and become pornography? According to Facebook and YouTube, the bar is set by them as extremely low, both recently removing images of nudes created by established artists. Facebook is finding itself under fire for removing images of artwork from the New York Academy of Art's official page.  At the same time, YouTube is facing criticism for removing video of a Spanish documentary about Juan Francisco Casas, a hyperrealist artist known for his portraits of young Europeans drawn with a 'BIC' pen (portraits which are highly valued in art markets and can fetch prices of over 10,000 dollars). In January, Facebook removed a nude by Steve Assael from the New York Academy's official Facebook page.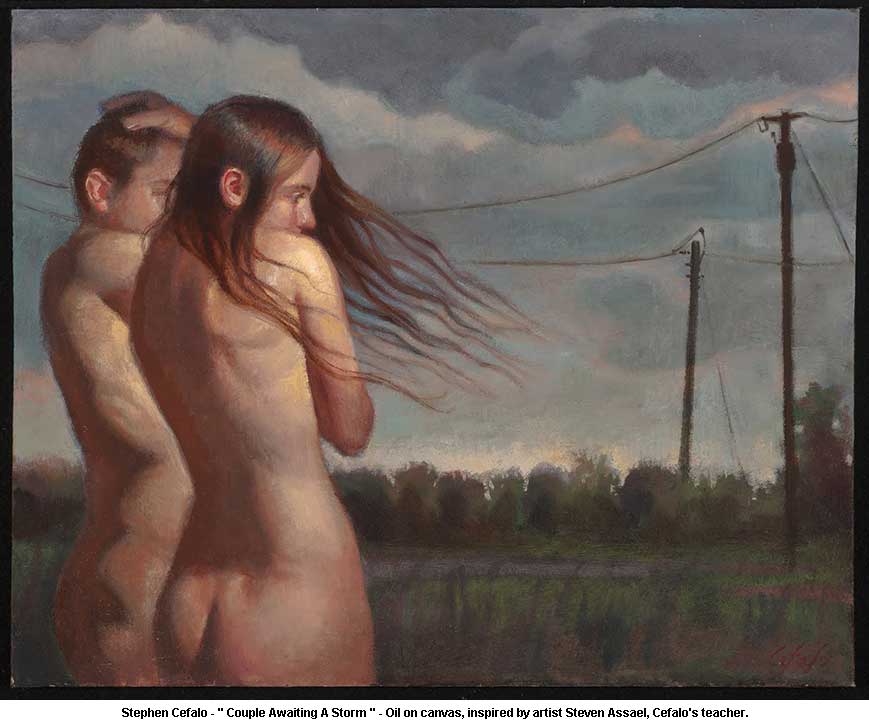 The Academy dared to question the removal, but perhaps could have been a little less inflammatory: "As an institution of higher learning with a long tradition of upholding the art world's 'traditional values and skills', we, the Graduate School of Figurative Art, find it difficult to allow Facebook to be the final arbiter – and online curator – of the artwork we share with the world. If Facebook is a new online Salon de Paris, where a faceless group of 'curators' determine what artwork the public should see, well then please consider our website the Salon de Refusés! If it begins with Steven Assael, a modern master, who's next?" Facebook promptly answered that question by removing works from the accounts of two more Academy alumni, Richard Scott and John Wellington.
Facebook have since apologized and re-instated the images. Facebook spokesman Simon Axten explained that the site bans nude photographs, but the company has "an unwritten policy" that allows drawings or sculptures of nudes. The company only reviews images following a complaint, and admits that sometimes they get things wrong.
In a similar move, on February 4th, YouTube deleted a documentary about the Spanish artist Juan Francisco Casas from the channel belonging to the magazine "cafedada.tv". According to YouTube, the video was withdrawn because it violated company policy relating to nudity and sexual content.
Juan Francisco Casas (Jaén, 1976) is a hyperrealist artist known for his portraits of young Europeans drawn with a BIC pen. These portraits are highly valued in art markets and can fetch prices of over 10,000 dollars. His work reflects a new carefree and hedonistic European generation that thrives organizing parties and exploring their sexuality. His style is classed by art critics as "domestic hedonism" and as a "reaction against boring modern nihilism".
So far, he has been awarded several important prizes including the painting ABC, and his work is represented in collections such as those in the Artium Museum, the ABC Museum, and the collection in Spain's Museum of Foreign Affairs. His work can currently be seen in the "Cover Girl" exhibition in the Parisian gallery, "Galerie des Galeries".
The video, censored by YouTube, is a documentary about his work made by the website. This Internet page publishes videos about new trends in Europe and its' slogan is "European things that rock!" The video about J.F. Casas had received more than 25,000 visits and at the time it was deleted it was receiving 2,000 visits a day.
Increasing pressure from governments for internet imagery to be censored along lines analogous to film censorship means that far from going away, this is a question that will become more prominent in future. On the evidence to date, neither Facebook nor YouTube have yet come up with workable solutions.
By Alexander McQuistan
Source: http://www.artknowledgenews.com