Arunas Miliukas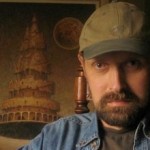 Artist Arunas Miliukas was born in 1961, in the capital of Lithuania – Vilnius.
In 1986 he entered a pedagogical institute of Šiauliai, to the art faculty.
In 1993 he graduated from institute and started his professional artist career.
He organized the exhibitions in Vilnius, Amsterdam, Holone (Israel). His art works are in private collections all over the World: Canada, USA, Australia, France, Germany, Israel, Sweden, Australia.
A. Miliukas works always fascinates with creative ideas, unexpected combinations, vivid, bold strokes and color harmony. – Read more -

Updating...