The Boca Raton Museum of Art Presents "American Treasures"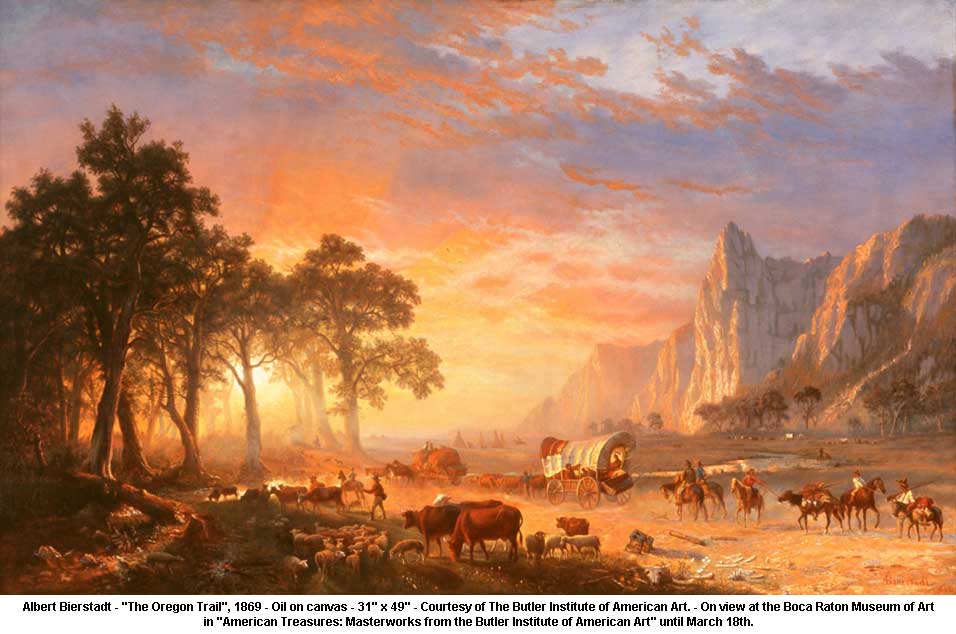 Boca Raton, Florida.-  The Boca Raton Museum of Art announces its season highlight, "American Treasures: Masterworks from the Butler Institute of American Art", featuring 35 works created by renowned American artists. The exhibition will run through March 18, 2012. What characterizes a "treasure" and what defines "greatness" in art? The criteria of a "treasure" – whether historical or contemporary – is decided by history. In these revisionist times, artworks, no matter how important they may have been at the time of their creation, are subject to reassessment of how we view the past. The BRMA opened American Treasures an exhibition featuring thirty-six artworks by renowned American artists.  The exhibition offers viewers the opportunity to review two centuries artistic achievement and reflect on the diversity of period styles and individual voices that make up the history of American Art.
These enduring masterworks help illuminate our view of modern and contemporary art, by refreshing our sense of historical aesthetic memory. American Treasures presents exquisite examples of old and modern American masterworks, as a checklist of ideas and social values, hopes, dreams and perceived realities. Included are masterworks by Milton Avery, George Bellows, Albert Bierstadt, Charles Burchfield, Thomas Cole, John Steuart Curry, Thomas Eakins, Adolph Gottlieb, Marsden Hartley, Childe Hassam, Robert Henri, Edward Hopper, Jack Levine, Joan Mitchell, Robert Motherwell, Georgia O'Keeffe, Jackson Pollock, Albert Pinkham Ryder, Andy Warhol, and Andrew Wyeth among others. The Butler Institute of American Art, located in Youngstown, Ohio, opened in 1919 as the first museum dedicated exclusively to American art. It is recognized nationally and internationally as one of America's finest art museums, with holdings now exceeding 20,000 individual works, including important masterpieces spanning four centuries.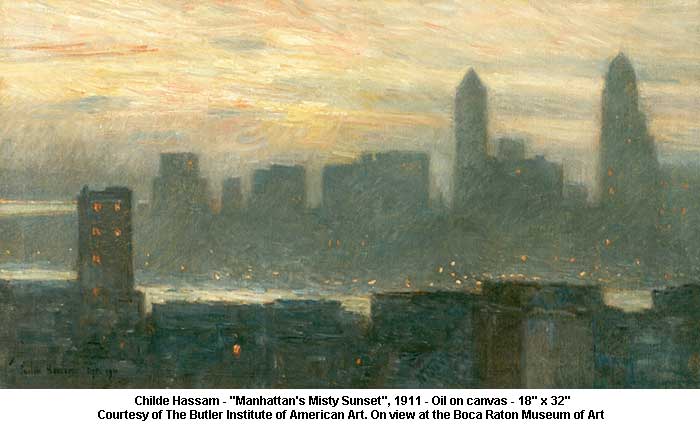 Deeply rooted in the history of its city, the Boca Raton Museum of Art exemplifies the cultural impact and "ripple effect" of the arts in small towns across America. In Boca Raton, the Museum's roots reach back to the late 1940s, when a group of socially active women came together to form the town's first organization, a civic club, with the goal to build a small library. Two library board members, philanthropist Hildegarde Schine and socialite Roberta MacSpadden had been appointed to organize an Open House. They met in the 1920s Town Hall, where an estimated 1,000 people flooded the Library Open House, which included an exhibition of paintings, borrowed from friends and loaned by galleries from Palm Beach to Miami. There and then, the Library Association decided they should form an organization to further this interest in the fine arts. In 1950, The Art Guild of Boca Raton was born. In 1961, construction of the first Art Guild building commenced, and in the fall of 1962, the Art Guild dedicated the building on Palmetto Park Road that the Museum occupied until January 2001, and that now houses its school of art. Growth and expansion have been steady ever since those first years. Within seven years, the building required an expansion, and three studio classrooms were added. In 1973, the Art Guild officially became a not-for-profit corporation, and twelve years later – in 1985 – changed its name to the Boca Raton Museum of Art. In 1978, the Museum hired its first full-time Director, and began a serious program of collections acquisition and changing exhibitions. By the late 1980s, the Board of Trustees began to address the need for future expansion to accommodate the growth of the Museum's collections.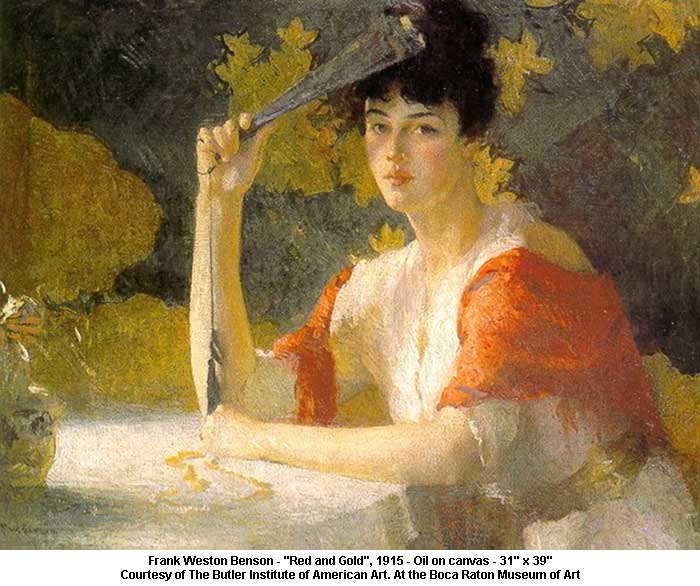 In late 1997, the Museum made a commitment to build a new facility in downtown Boca Raton's Mizner Park. On January 24, 2001, the new Museum at Mizner Park was officially opened to the public debt-free. The 44,000 square foot facility makes possible increased exhibition, education and collection galleries; to add public meeting and program areas; and to enhance fourfold the Museum's programming capabilities. It is a permanent architectural symbol of the City's pride in its past, commitment to the present, and faith in the future. In June 2001, the Museum began expansion of its Art School on Palmetto Park Road, which now includes eight classrooms and a faculty/student exhibition gallery. The school offers over 100 weekly classes taught by more than 50 highly experienced instructors with annual attendance of nearly 3,000 students of all ages. The Museum continues to attract people of all ages with its permanent and traveling exhibitions, educational gallery, and sculpture garden. Lectures, film & video series, docent and cell phone tours, special events, and children and family programming expand the visitors experience throughout the year. A Grand Hallway, stunning Sculpture Garden and large catering kitchen makes the Boca Raton Museum of Art the ideal place for meetings and social gatherings. As "The Official Fine Arts Museum for the City of Boca Raton." the Museum plays a key role in enhancing the cultural, educational, and economic vitality of Boca Raton and its surrounding communities, and has maintained the reputation of being one of South Florida's leading cultural institutions, attracting more than 200,000 visitors annually to its galleries and programs.
Source: www.artknowledgenews.com